helping older adults flourish where they live
Our Aging in Place Program
Creative Community Partnerships Helping Seniors Age In Place
The Need:
10,000 Americans turn 65 every day making them the fastest-growing age group in the country. By 2030, 20% of the US population will be 65 or older.
About 19 million older adults live in homes that are in disrepair or inadequate for their needs and cannot access the resources to make these places livable. This is why Habitat partners with families, communities, and local organizations across the U.S. to help older adults improve their homes and quality of life, allowing them to flourish where they live.
Our Goals:
reduce risk & fear of falling
create safe & accessible homes for those aged 60+
connect homeowners to healthcare services
Apply Now
Take the first step by completing our application. For questions about this program, complete the form below.
Limited Capacity:
Due to overwhelming demand and staff capacity challenges, Habitat for Humanity has suspended application acceptance for the Home Repair program except for homes located in the following zip codes: 44305, 44310, 44314, 44320, and 44203
Please keep checking back for more information on when applications will be open to the entire county! Thank you.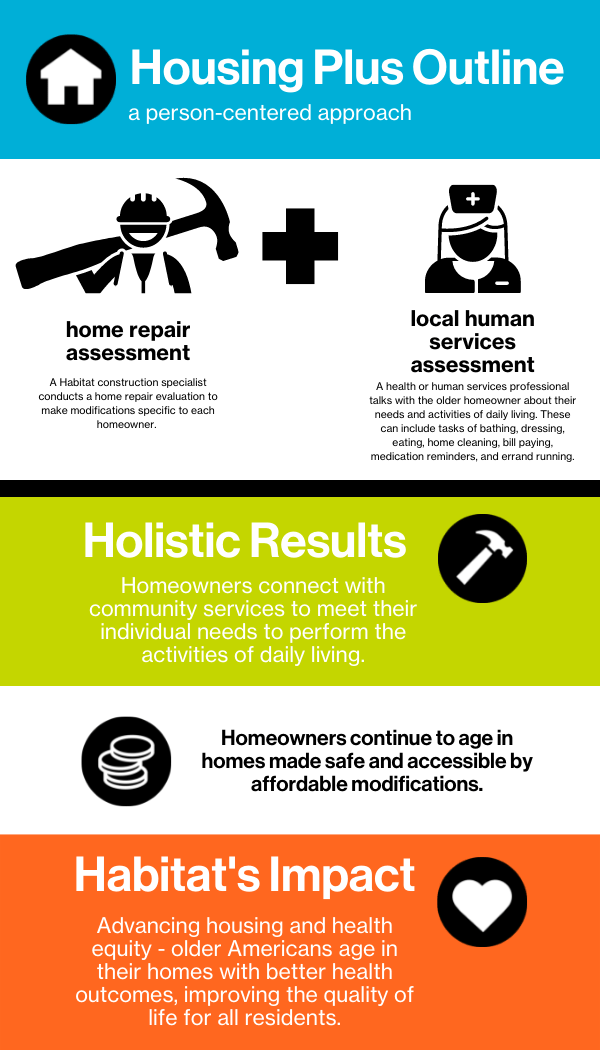 Common Services Provided
Accessibility modifications made by Habitat for Humanity of Summit County may include the installation of:
ramps
grab bars
tub-cuts
lever style door knobs
technology
smoke/CO2 detectors
gates
handrails
interior and exterior lighting
non-slip flooring and flooring repair
ADA compliant toilets
Is your project not listed?
other exterior home repairs are available through our programming >>>>>
Donate to this Program
help us foster safe, livable homes and communities where older adults can thrive >>>>>