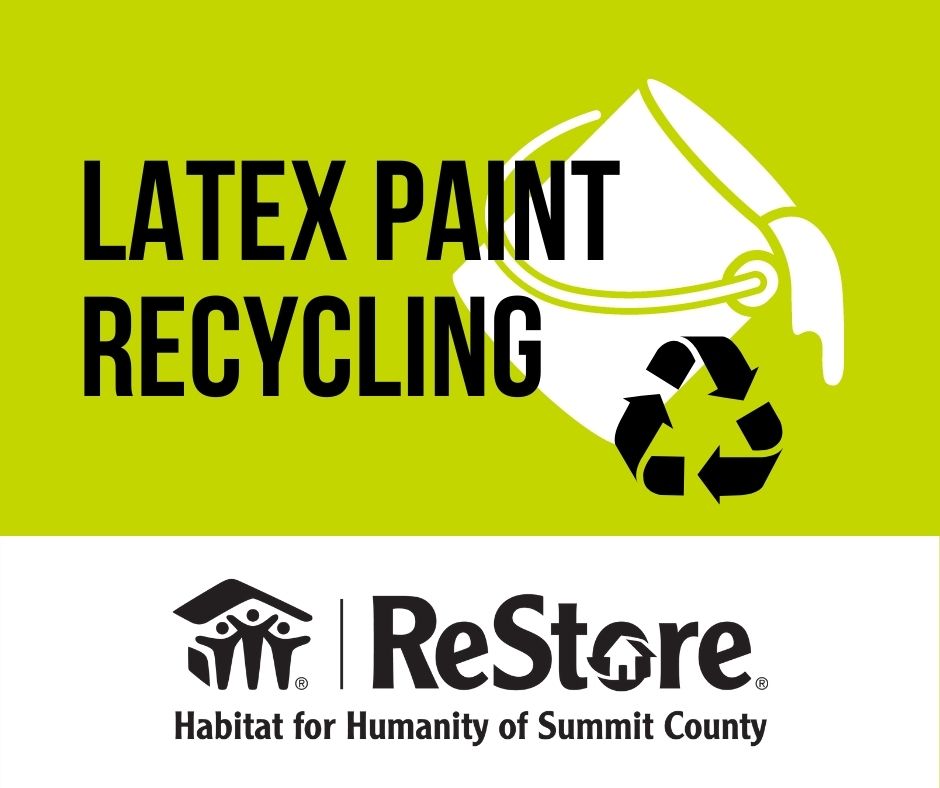 NEW: Latex Paint Recycling
Safely recycle your latex paint at the Summit County ReStore.
$1 per gallon
$2 per 5 gallon bucket
Drop off during regular ReStore business hours, Wednesday thru Friday 8AM to 6PM and Saturday 8AM to 4PM.
*LATEX ONLY – we cannot accept stains or any oil based paints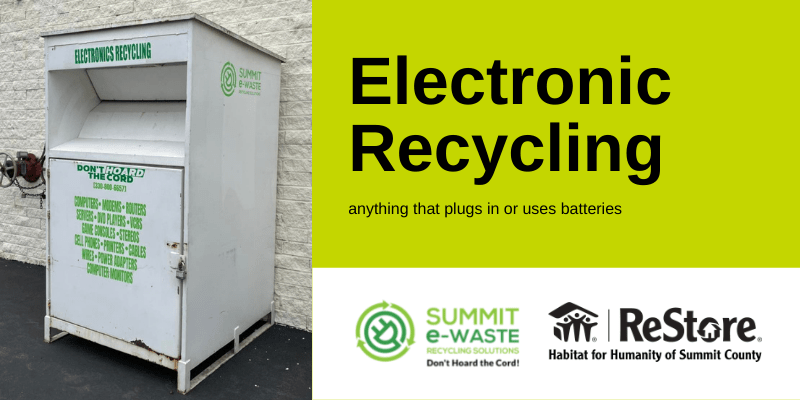 Electronic Recycling
Drop off your old, unwanted, or broken electronics in the electronic recycling bin in the ReStore parking lot. This service is provided to shoppers in partnership with Summit E-Waste. Learn more about the services offered by Summit E-Waste through the link below.
ANYTHING THAT PLUGS IN OR USES BATTERIES
Cell Phones, PDAs & Mobile Devices
Desktop Computers & Laptops
Printers – all types and sizes
Telephones & Phone Systems
DVD Players, VCRs & Stereos
Modems, Routers & Servers
Game Consoles & Radios
Cables, Wires & Power Adapters
Ink & Toner Cartridges
Computer Monitors
Purchase a Summit County ReStore Gift Card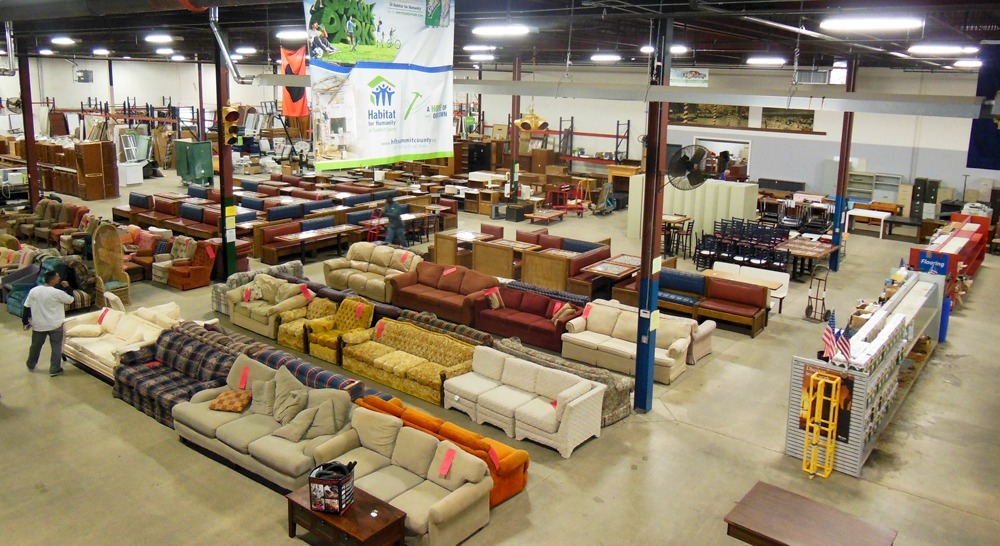 Treasure hunts where good finds fund good work.
The Habitat for Humanity of Summit County ReStore is a perfect place to donate your gently-used or new furniture and appliances and do-it-yourselfers to shop. Our warehouse is filled with new and gently used building materials, furniture, and appliances available to the public at deeply discounted prices. Items are donated by individuals, contractors and retailers. Proceeds from the ReStore benefit the mission of Habitat for Humanity of Summit County and help fund the building of homes with local families in need of a safe, decent, affordable place to raise a family.
(330) 745-9098
restore@hfhsummitcounty.org
2301 Romig Rd. Akron, OH 44320
Wednesday – Friday 8AM-6PM & Saturday 8AM-4PM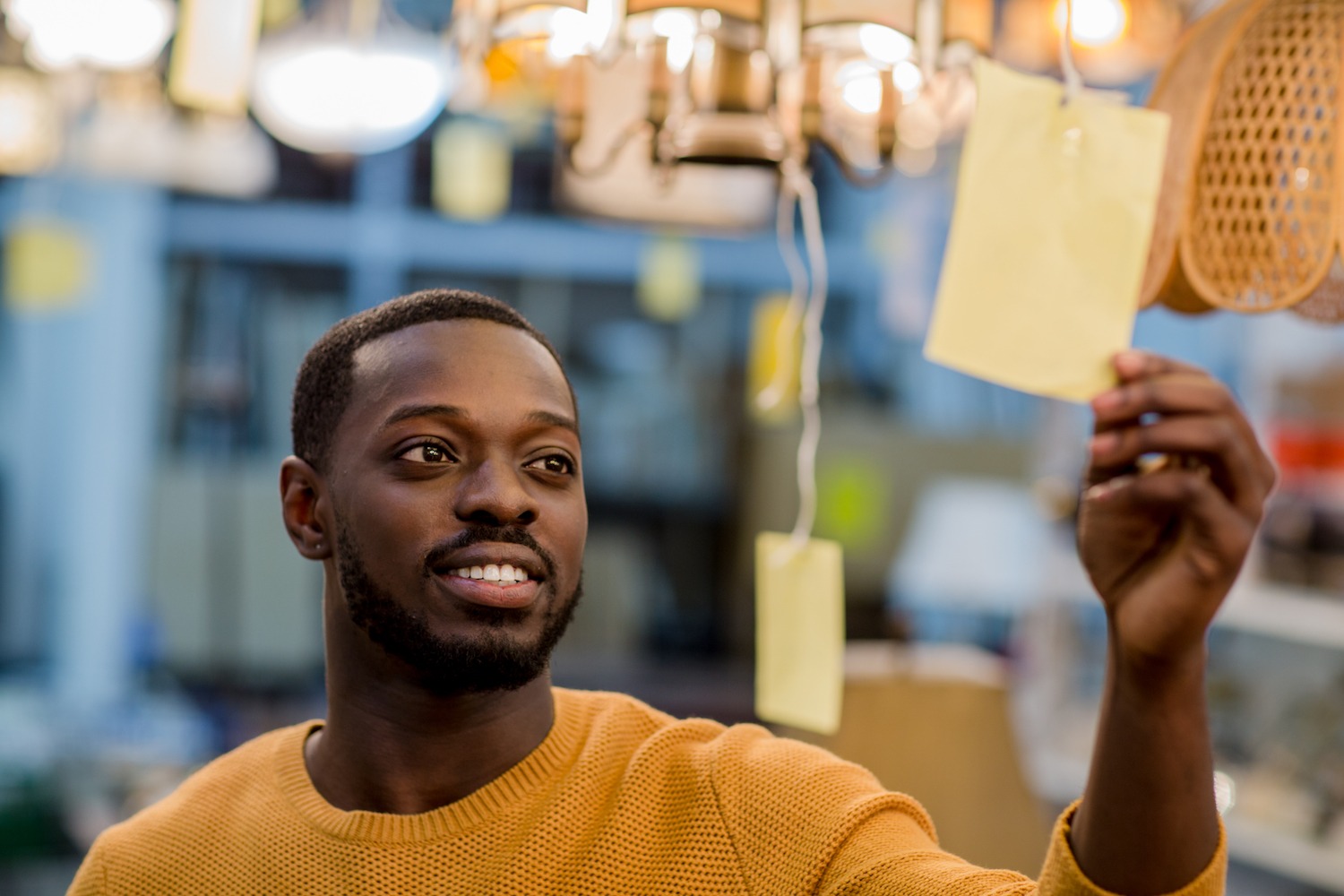 Shop new and gently used furniture, building materials, home decor, appliances, and more all discounted 50-90% off retail value. Each purchase made in the ReStore supports our mission, keeps reusable items out of landfills, and saves you money! You never know what you'll find at ReStore.
"New items are available every time we go. Prices are fabulous for remodeling needs!"
"It's an adventure every time you go. You just never know what you're going to find. Very friendly staff and great prices. Love the fact that they are now open on Wednesday."
"The employees are so friendly and you can't beat the prices!"
"Always something new to see & use in home projects. Love the tips in the emails."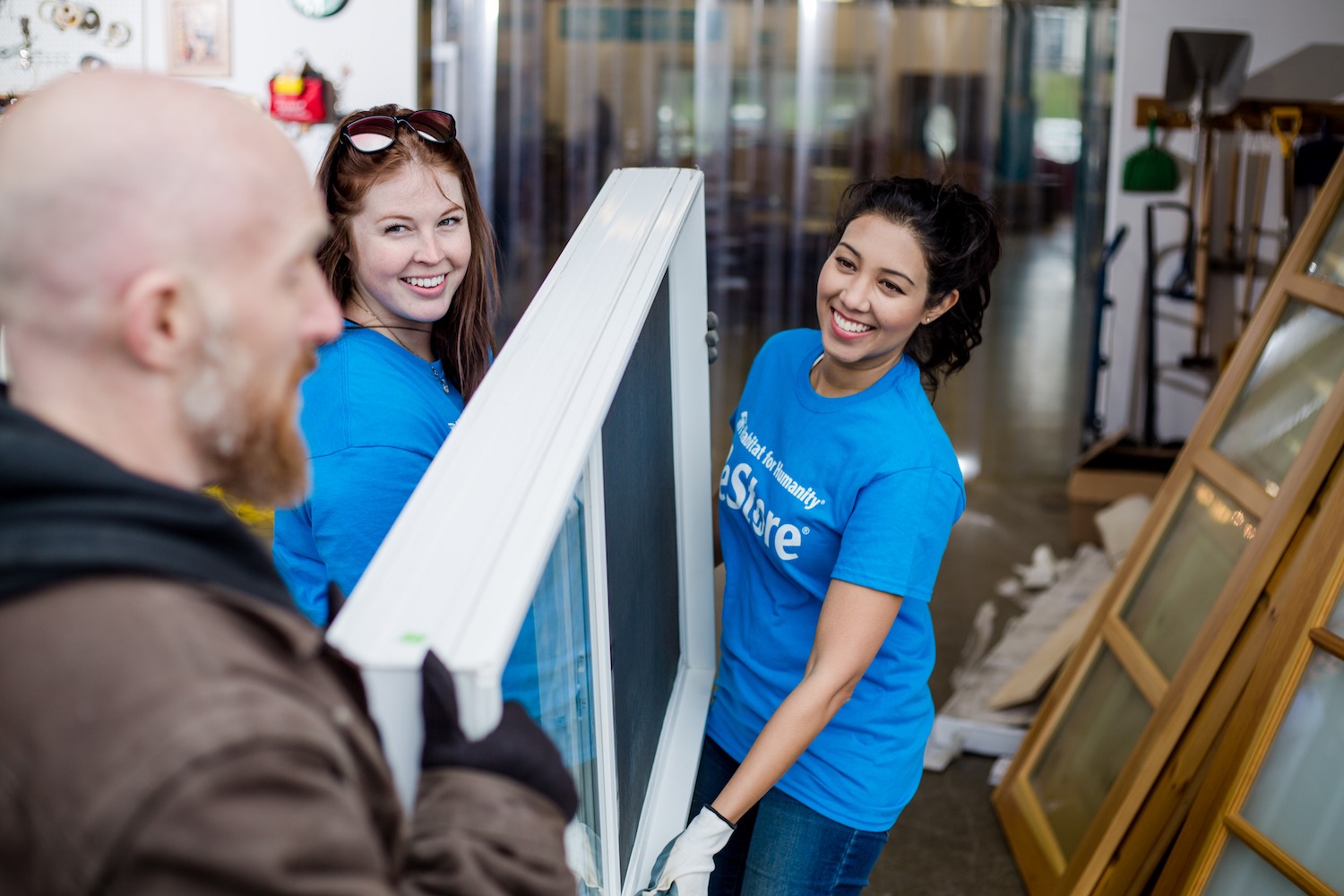 ReStore survives on donations. We accept donations from individuals and companies of new and gently used building materials, furniture, appliances, and more. Every donation helps support our mission in Summit County and around the world.
Why?
Save reusable items from the landfill & save the environment.
Easy donation drop off & free pickups in Summit County.
All donations are tax deductible.
Offer great items for lower income families.
Donation Drop-Offs Accepted:
Tuesday 8am – 3:30pm 
Wednesday, Thursday, & Friday 8am – 6pm
Saturday 8am – 4pm
Request a Free Donation Pickup
Drop Off Your Donation
2301 Romig Rd. Akron, OH
Tuesday 8AM-3:30PM
Wednesday – Friday 8AM-6PM
Saturday 8AM-4PM
give your feedback
Have you donated to the ReStore before? Tell us how we're doing to help us better serve our community by answering a few short questions!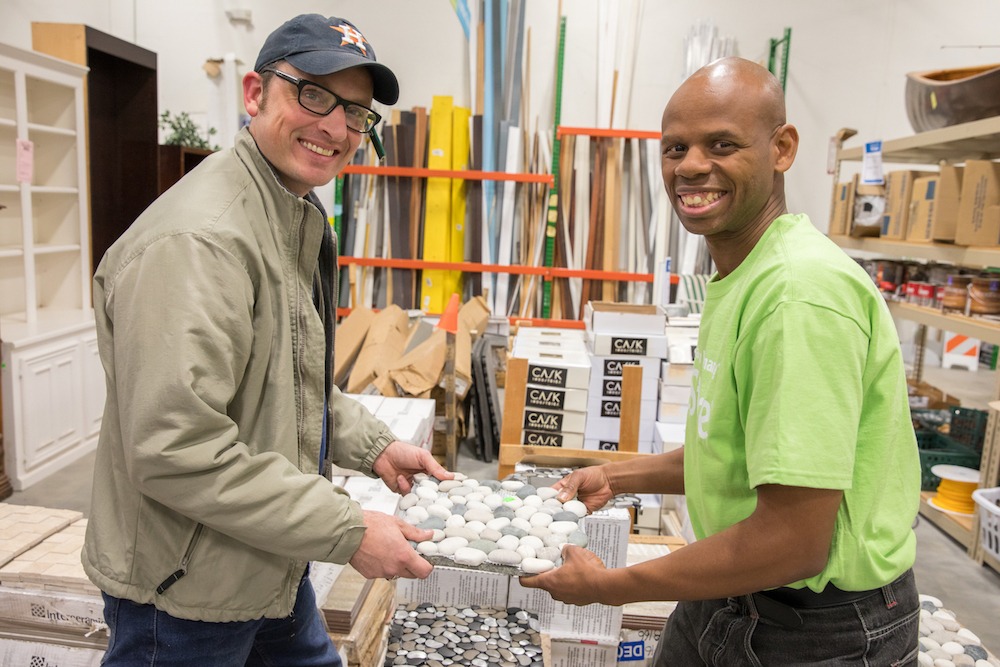 Assist our staff with unloading donations, organizing displays, showroom cleaning, and customer service. Volunteering in our ReStore offers a flexible schedule, requires no skills, and is available for volunteers 14 years and older.
How do I donate an item?
If you have building materials, furniture, or appliances in either new or gently used condition, call us at 330-745-9098 or use the Calendar to schedule a pickup online at the top of the page.
How are the items priced at the ReStore?
Materials are sold 50%-90% of retail value.
Where do items come from?
ReStore accepts new and gently-used building materials, furniture and appliances from individuals, contractors, suppliers, retail stores, remodelers and property managers.
What payment types does the ReStore accept?
Cash, Visa, MasterCard, Discover (sorry, no checks).
How often do you get new merchandise?
Inventory changes often – we are receiving new items daily as donations arrive.
Are my donations tax deductible?
Donations to the ReStore are tax deductible to the fullest extent allow by law. Please consult with a tax accountant or the IRS for a definite answer. We will provide you with a donation receipt, which you may use with your tax information. IRS regulation do not allow us to value to item.