What is it?
A certified deconstruction crew removing building materials for the purpose of re-use or recycle for FREE!
Whether you're remodeling a kitchen or bath or demolishing a home or office, we can help!
What does the Deconstruction Program offer?
Affordable de-installation and removal of your salvageable materials:
Windows
Doors
Aluminum siding
Gutters
Shutter

Cabinets
Vanities
Light fixtures
Handrails
Mantels
How does Deconstruction help the community?
It generates funds to help build more Habitat for Humanity homes for those in need in Summit County.
It reduces landfill materials generated from remodeling and demolition projects.
It provides affordable building supplies to the public through the ReStore.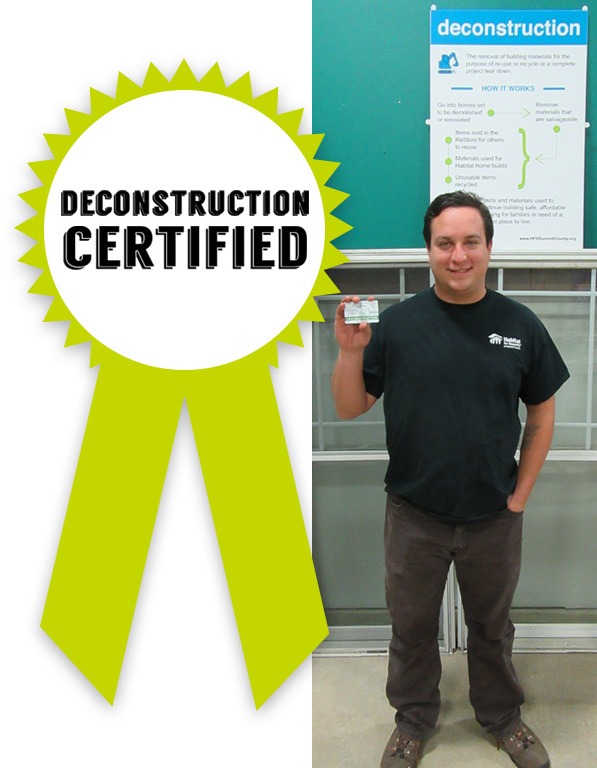 Interested in having the Deconstruction Team come to your home or business?
Please fill out the form below and our team will be in contact soon! Thank you for your donation.
Deconstruction in the News
5/05/2016 | Akron.com/West Side Leader: Deconstruction program building up community
04/08/2016 | Hudson Hub Times: Akron Zoo and Habitat for Humanity form partnership
04/07/2016 | Cleveland.com: Habitat for Humanity deconstructs homes owned by Akron Zoo
04/07/2016 | Habitat Deconstructs Akron Zoo-Owned Properties
04/01/2016 | President & CEO Presents at City Council Meeting