Looking for the perfect banana bread recipe? We have it for you! Check out this week's sneak peek of our family cookbook! The cookbook has a collection of recipes and stories from our staff, homeowners, and volunteers.
There are two ways to purchase our 2021 family cookbook.
Buy our cookbook in our ReStore at the register for the price of $10.
Buy our cookbook online for a price of $10 plus $2.50 for shipping and handling.
Proceeds will support our mission of funding homes in Summit County.
Click here to purchase your cookbook today. ⬇️⬇️⬇️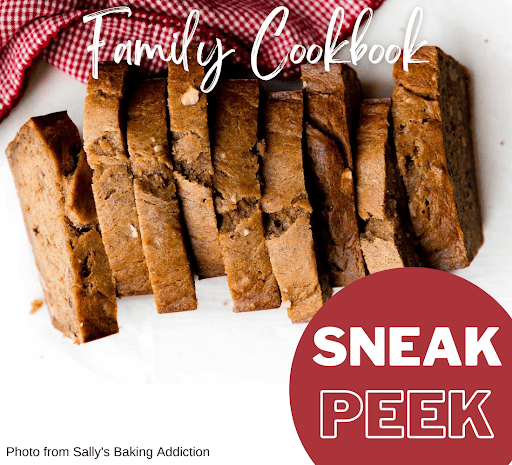 Moist Banana Nut Bread
Cheyenne Guthier, Partner Family
½ c. butter, melted
1 c. sugar
2 eggs
1 tsp. vanilla
1 ½ c. all-purpose flour
½ tsp. salt
1 tsp. baking soda
½ c. sour cream
2 medium ripe bananas (sliced or mashed)
½ c. chopped walnuts (optional)
Mix butter and sugar. Add eggs and vanilla, mix well. Combine flour, soda, and salt. Add dry ingredients into butter and egg mixture until smooth. Fold in sour cream and then bananas. Add walnuts. Bake at 350 degrees for about an hour or so.