Kim Kerr, Family Services Manager
kimk@hfhsummitcounty.org
330-745-7734 ext. 207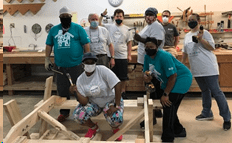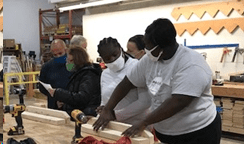 It is hard to believe that we have almost reached the end of the year 2020. Most of us have events we will remember all of our lives. I will remember special days like the day I graduated from college. The day of my wedding. The day my child was born. My first day of employment at Habitat for Humanity. The day I moved into a new house. Most people will remember exactly where they were when our country was attacked on 9/11. The pandemic of 2020 will be another event we will always remember. The attack on 9/11 brought fear for our country and sadness for the families who lost loved ones. The pandemic has created a fear of the unknown while we have a need to focus on others.
Giving Tuesday, December 1, 2020, is an international day of charitable giving. Giving can be through volunteering one's time and talents or a financial gift. This is an opportunity to focus on others as well. Habitat for Humanity definitely appreciates the financial help from our businesses and individual donors. We also are thankful for donations made to our ReStore.
At Habitat we get to celebrate with our families when they receive their keys for their new home. It is such an exciting day for them. Sharing this journey to home ownership with the partner families is the highlight of my job. When our families move into their new homes, one of the items they receive is a picnic table. This picnic table serves as their spot to sign their closing documents in their brand new home. It is an item I have had the privilege of helping build as well. Partner family members and groups have volunteered to build picnic tables. This is an opportunity for multi-generational groups to volunteer on a building project.
Giving Tuesday offers an opportunity to consider coming together to give to someone else in a fun way. Would your family like to plan a building event putting together a picnic table? A building activity can be arranged for your children and/or grandchildren by calling our volunteer manager, Roberta Dorkoff at 330 745 7734 ext. 211. This is a great way to celebrate the season of charitable giving.
As we move through this crazy year of the pandemic, I look back over that past few months and find myself feeling grateful. People have been willing to try new things and work to protect our loved ones, friends and even strangers. Habitat has definitely been affected by this pandemic through increased costs for supplies as well as the need to limit our number of volunteers. Thank you for continuing to keep Habitat for Humanity in your thoughts and prayers.