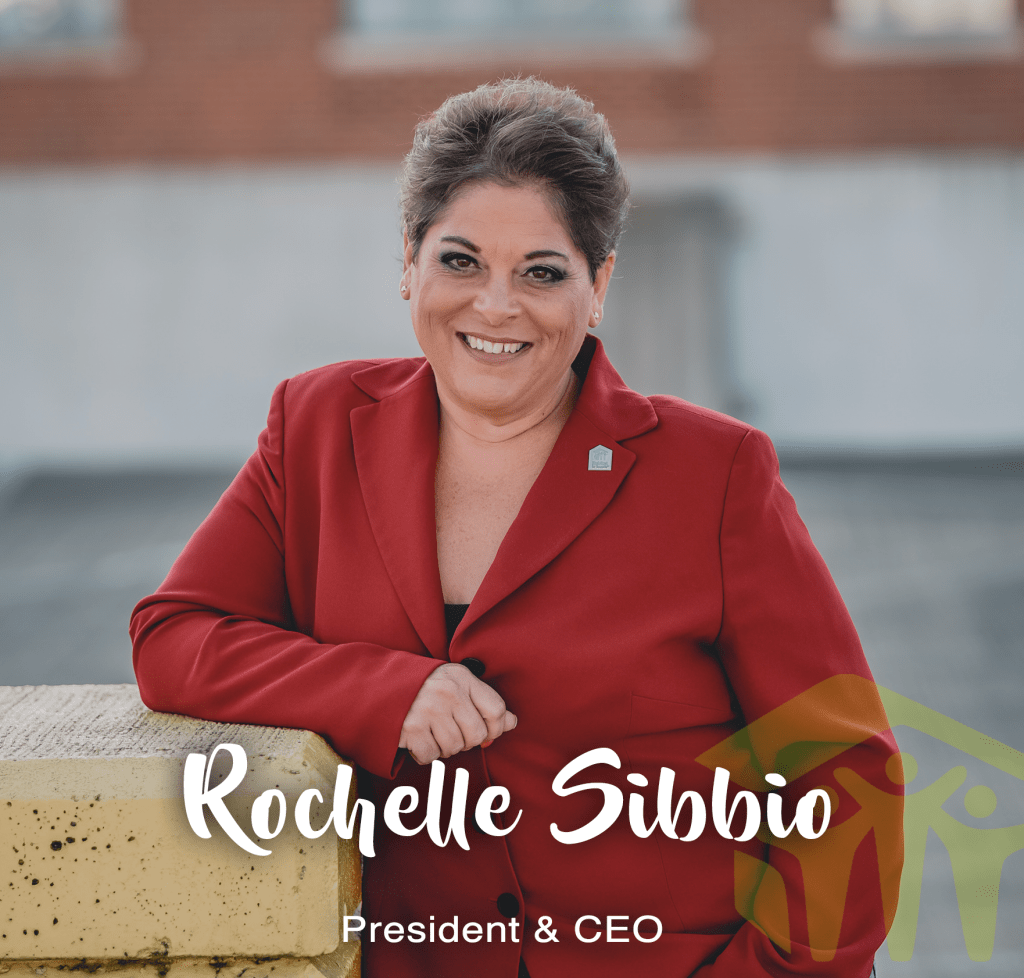 We are celebrating the 15 year anniversary of our President and CEO, Rochelle Sibbio. She has successfully led our affiliate through many challenges over the past 15 years. When Rochelle first joined Habitat for Humanity of Summit County, we operated in a very small building on a side street in Akron. In 2007 we opened a ReStore 10 miles from the offices. After a $2M capital campaign, we were able to move and now operate in our 67,000 sq. ft. warehouse.
As we paid off our building's mortgage this year, we are reminded of how far we have come and we are excited to continue to grow and better serve Summit County with Rochelle's guidance. Here are a few questions we asked Rochelle as we reflected on the past 15 years and as we continue to hope for the future.
What has been your favorite memory from the past 15 years at HFHSC?
"My favorite home dedication memory is the home we built for a family in Stow. Their young son had recently been diagnosed with ADHD and autism. He absolutely loved the Goodyear Blimp. He was fascinated by it. For their home dedication I contacted a friend at Goodyear who gave us a 4 ft. blow up Goodyear Blimp. On the day of dedication we had it blown up and hung by a string from his bedroom ceiling. It was a day of joy and smiles but particularly for him seeing such a small gift make such an impact on him."
What are you most proud of accomplishing as CEO & President thus far?
"I could say every home we have built is something I am most proud of.  The best days at work are home dedications and mortgage burning ceremonies.  I would also say that coming into the position in 2006 with it being a small organization with a budget size of just over $600,000 a year building about 3 homes with 3 total staff to growing it a $3M organization building about 8 homes a year, adding a successful repair program and opening the ReStore as well as adding a deconstruction program to our operations is what I am most proud of here.  We also have seen long time staff – some retire from their positions here."
Where would you like to see the affiliate going in the next 15 years?
"In the next 15 years I would love to see us having a chance to build more "development" type projects on larger parcels of land vs. predominantly "infill" homes on vacant city lots.  Also, expanding to more builds in the county in general outside the City of Akron.  However, those homes tend to have higher property taxes so it's an affordability balance for our low to moderate income families to be sustainable over time.  We have just launched a new 5 year campaign called Imagine Impact.  This is a growth plan of 75 new homes, 150 home repairs, 1,000 lives changed and 10,000 community volunteers mobilized.  I would like to continue to expand on this vision post 2025 once we see where we end up with the plan.  The impact of COVID-19 certainly has been a challenge as the plan kicked off just as the pandemic took hold of our country.  While we broke the 200 house benchmark in 2018 I would like to see us break the 300 mark by 2025; the 400 mark by 2030; and the 500 mark by 2035 and likely by then I'll be ready to retire.  I am blessed to be in the seat and share my life and professional career with an organization I love and a mission I embrace.  I get the chance to work with some wonderful families, staff, board members and volunteers to make a real difference in the lives of families who come in contact with us."